In June of 1993, the Chicago Bulls stood as back-to-back NBA champions looking to complete the first threepeat since the 1960s Boston Celtics. After finals series wins over the Los Angeles Lakers in 1991 and Portland Trailblazers in 1992, the Bulls faced Charles Barkley's Phoenix Suns in the 1993 NBA finals.
Phoenix, winner of sixty-two games during the regular season, held home-court advantage over the fifty-seven-win Bulls in a two-three-two finals series format. The Bulls won the first two games on the road, and the teams then split the first two games in Chicago. Holding a 3-1 series lead following their home win in game four on June 16, the Bulls had one opportunity to close out the series at home– game five on June 18– before the series would return to Phoenix for possible games six and seven.
Bulls forward Horace Grant was worried about the possibility of a summer return to Arizona, and Phil Jackson, Chicago's cerebral coach dubbed the "Zen Master," was especially interested in wrapping things up at home in game five, including for personal reasons: he had a concert to attend.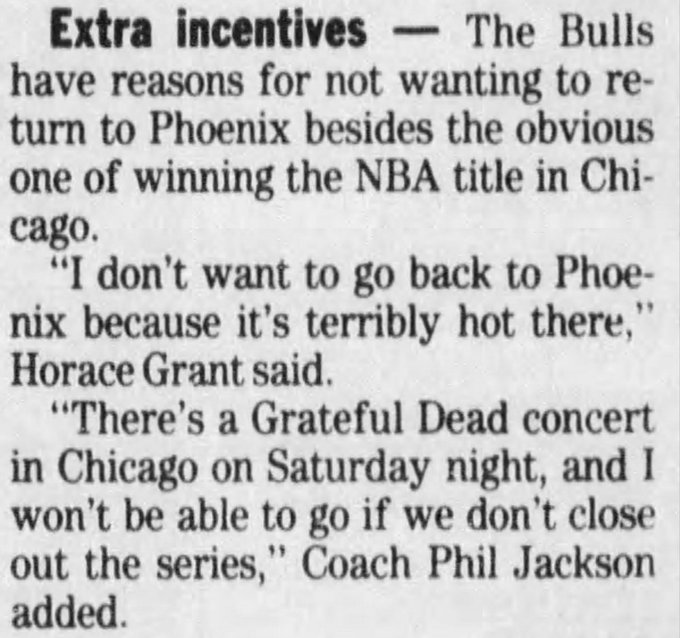 In fact, the Grateful Dead were playing at Soldier Field in Chicago on two nights in June of 1993: Friday the eighteenth– the same night as game five– and Saturday the nineteenth, the latter being Jackson's target concert date. At that point, basketball and the Dead already had been linked for decades, first via Merry Prankster Ken Babbs, who played Division I college hoops for Miami in the 1950s, and thereafter more prominently through Bill Walton (pictured above with Jackson, Bob Weir, and Oteil Burbridge). In June of 1993, the cosmic waves certainly appeared to be aligning for a heady weekend for Jackson: secure an NBA championship on Friday and celebrate with the Grateful Dead on Saturday.
Jackson's best-laid plans turned out to be little more than a sunshine daydream, however. Despite forty-one points from Michael Jordan and twenty-two more from Scottie Pippen, the Bulls lost game five by ten points. Grant's fear of the desert heat translated to a drought on the court, his worst game of the series. The Suns were particularly unwilling to abide Jackson's high time:
While Danny Ainge surely believed he was doing better by Jackson than Jackson was doing by him, the anthem of the Suns was not again heard in that series, and the Bulls claimed their virtually inevitable championship in a one-point road victory in game six.
But was the Grateful Dead aware that an especially lanky fan had been deprived of the opportunity to join them on that Saturday night in Chicago? I like to think the "Long Way To Go Home" and "Truckin'" sequence early in Saturday's second set was a nod to the Chicago-to-Phoenix-to-Chicago detour Friday night's loss required Jackson's Bulls to make. Listen for yourself here.
________________________________________________________