Before he went to work for the Tampa Bay Rays, Jeff Sullivan was a prolific writer and visual analyst for FanGraphs. One of his regular features there documented in meticulous detail the worst umpire calls on balls and strikes in a recently completed MLB season. (Here, for example, is his treatment of the worst called ball of 2018.)
I thought of Sullivan last night while catching up on the Detroit Tigers' 17-13, extra-innings win in Pittsburgh. I was trying to figure out why Pirates manager Derek Shelton (a $50 credit at the ALDLAND store to anyone outside Pennsylvania who convinces me he or she knew the name of the Pirates' manager before yesterday) was out of the game and former Tigers folk hero Don Kelly was at the helm opposite his old team.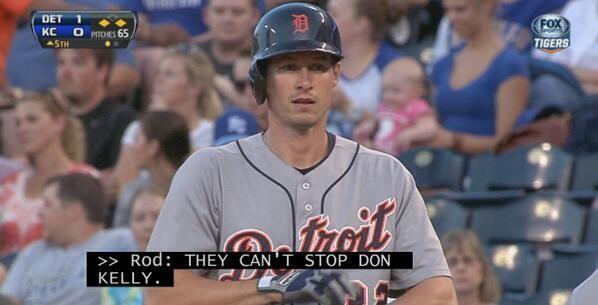 I discovered that home-plate umpire Ramon De Jesus had ejected Shelton for arguing balls and strikes. Yawn. During a pitching change, though, I decided to kill time by watching the clip of the ejection, after which I was wide awake. Could it be that just (depending on how you count) eleven games into this miniature baseball season we already have seen the worst called ball of 2020? 
I don't have Sullivan's facility with visual-analysis tools at my fingertips. Nor do I have his minimum word count requirement, so I'll make this pretty simple.
Yacksel Rios was pitching for the Pirates with a one-run lead in the top of the seventh.  Leading off the inning for Detroit, Jonathan Schoop singled on a 1-0 curveball. Rios hit Miguel Cabrera with his next pitch, placing runners on first and second with no outs.
Then C.J. Cron came to the plate. Half of Cron's hits this season have gone for homers, and a double off the wall at home against Cincinnati last month could've pushed that ratio even higher. He opened the scoring in this game with a second-inning solo shot off Pittsburgh starter Chad Kuhl. Cron is a dangerous hitter right now, and opposing players know it.
It thus made sense that Jacob Stallings, the Pittsburgh catcher and son of former Pitt and Vanderbilt men's basketball coach Kevin Stallings, set up for a first pitch to Cron that was low, a bit outside, and, according to the home telecast, offspeed.
Rios had other ideas, however. He decided to challenge Cron with a fastball at 94.5 mph. Stallings' plan probably would've worked. Rios' plan did work, at least for a moment. Cron didn't offer at the pitch, which cruised right down the middle, and Stallings adjusted in time to catch it.
PNC Park has one of the best center field camera angles in all of baseball, so it's especially easy to see the vertical and horizontal placement of this pitch relative to the strike zone. The z-axis measurement, where the ball is relative to the zone when it crosses the plate, is a little more difficult to discern from this angle, but the Statcast plot below confirms the essential aspect of what our eyes tell us from the video still: this pitch arrived middle-middle.
The video still also illustrates the effort Stallings undertakes to address his miscommunication with Rios. From our vantage point, his glove moves from bottom left up through the center of the zone and then back out to the left. Stallings also moves his body and posture quite a bit, beginning in a medium squat, squared to the plate, mound, and umpire; trapping the ball awkwardly; and ending up on his other knee behind the other batter's box, his body and shoulders rotated almost square to Cron and perpendicular to the plate, mound, and umpire.
De Jesus called the pitch a ball. Shelton started shouting at De Jesus, who kicked him out of the game quickly thereafter.
If you're ready to watch, video of this sequence is available here.
Noisy receiving often occurs in situations like this, and that serves as a reminder of the degree to which home-plate umpires rely on indirect factors in reaching their conclusions on pitch calls, and it's a harsh illustration of the reason pitch framing remains an essential– if decreasingly valuable, on a relative scale— catcher skill.
Back to the action, Rios walked Cron to load the bases, and Kelly then removed Rios from the game, presumably so he could commiserate with Shelton. Miguel Del Pozo relieved Rios and allowed six runs before he recorded the third out. That finally occurred when Schoop, who walked to start the inning, grounded out to end it. Together, both teams had scored nineteen runs at that point, and they still had eleven more (and four and a half innings) in their collective tank.
The Tigers and Pirates are back at it this afternoon. Former Pirate Ivan Nova is scheduled to start for the Tigers in what would be his first appearance at PNC Park since Pittsburgh traded him to the White Sox after the 2018 season. First pitch is scheduled for 4:05 pm, possibly on TV on FS1.