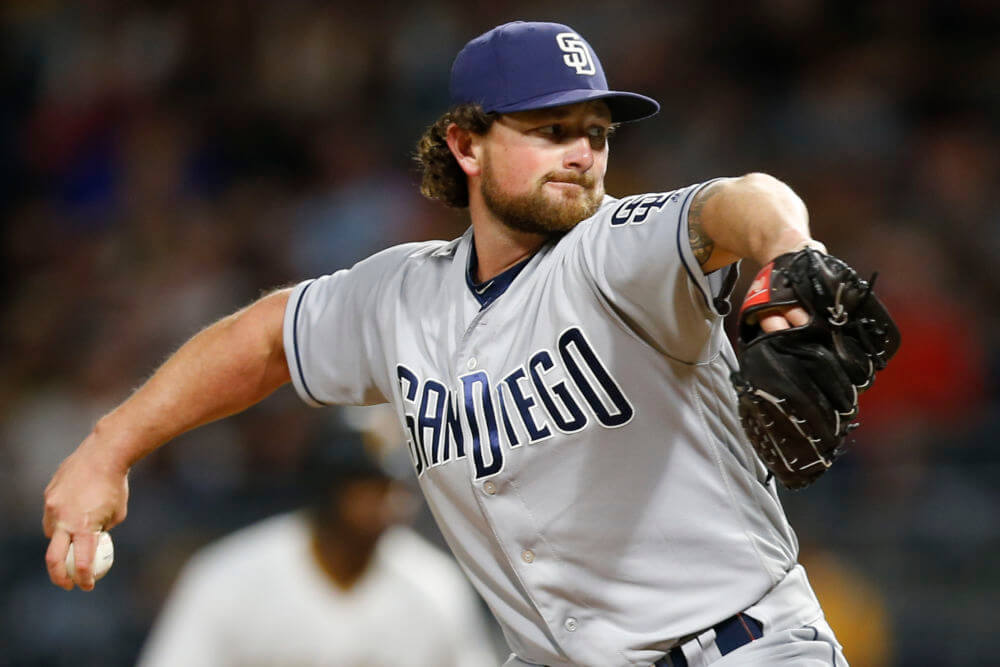 Christian Yelich and Cody Bellinger just wrapped up excellent Aprils.* Yelich started very hot, while Bellinger came on very strong a bit later. The two finish the season's first full month tied for the MLB lead in home runs (fourteen) and with a pair of gaudy offensive lines:
Unsurprisingly, these guys appear at the top of a lot of leaderboards right now, including the FanGraphs combined WAR leaderboard, by which measure Bellinger (3.0 fWAR) just completed a month tied with August 2002 Barry Bonds for the third-best month ever. You're going to have a hard time convincing anybody that Bellinger, or maybe Yelich, wasn't the April 2019 MVP.
For the sake of this post running longer than 105 words and maybe illuminating something beyond the obvious, another one of the leaderboards Yelich and Bellinger also top is the cWPA leaderboard:
I like using cWPA (defined: championship win probability added "takes individual game win probability added (WPA) and increases the scope from winning a game to winning the World Series. Where a player's WPA is the number of percentage points that player increased or decreased their team's probability of winning a single game, their cWPA is the number of percentage points the player increased or decreased their team's chances of winning the World Series.") in MVP analyses because I think it should be attractive to a broad swath of the MVP electorate in that it accounts for the traditional notion that the individual award-winner ought to have been on a winning team. When handing out performance awards for a given season (or some subset thereof), it makes sense to reward players based on what they actually accomplished, as opposed to what they should have accomplished but for bad luck, sequencing, weak teammates, strong opponents, environmental variations, and other contextual and extrinsic factors. After all, these factors work, to some extent, on all players, and just as we determine team monthly standings based on actual win percentage (and not a sabermetrically adjusted winning percentage), so too should we determine individual monthly awards based on actual results.
If you followed the cWPA leaderboard over the course of the last month, you would've seen Yelich hanging out at the top most days, eventually joined at the top by Bellinger thanks to the latter's strong, late surge. You also would've seen Kirby Yates consistently hanging around the second or third position for much of the month. Who is Yates, and how did he come to join Bellinger and Yelich in the clear top echelon of early season cWPA accumulators?
Yates currently is:
a right-handed relief pitcher
playing for the San Diego Padres
in his sixth major-league season
thirty-two years old
a native of Hawaii
leading MLB in games finished in 2019 (fifteen)
leading MLB in saves in 2019 (fourteen)
The Padres closer certainly has gotten off to a hot start, but it's important to remember that he's only thrown sixteen total innings in 2019. He's probably going to give up a home run at some point, for example, and eventually seems likely to allow more than one run per sixteen appearances.
It also bears noting that relievers commonly experience a greater share of their playing time in situations of elevated leverage, so it isn't totally surprising to find a reliever hanging out near the top of this group (cf. 2016 Zach Britton), though it of course is a double-edged sword for WPA-based metrics.
Finally, even if Yates' hand remains steady, his team's situation over the course of the season may not put him in a position to boost championship win probability. The Padres currently are 17-13 and tied for second in the NL West, but they've allowed more runs than they've scored, which isn't what you'd like to see if you'd like to see the Padres competing for a playoff berth and a World Series championship in 2019.
Cody Bellinger probably deserves player-of-the-month honors for April, but Yates has, at a minimum, made a case with his own April performance that he is a guy to watch, which is pretty good for a Padres reliever in 2019.
* Statistics and information contained herein current through April 30. Spoiler Alert: Bellinger won the April player-of-the-month award for the National League.