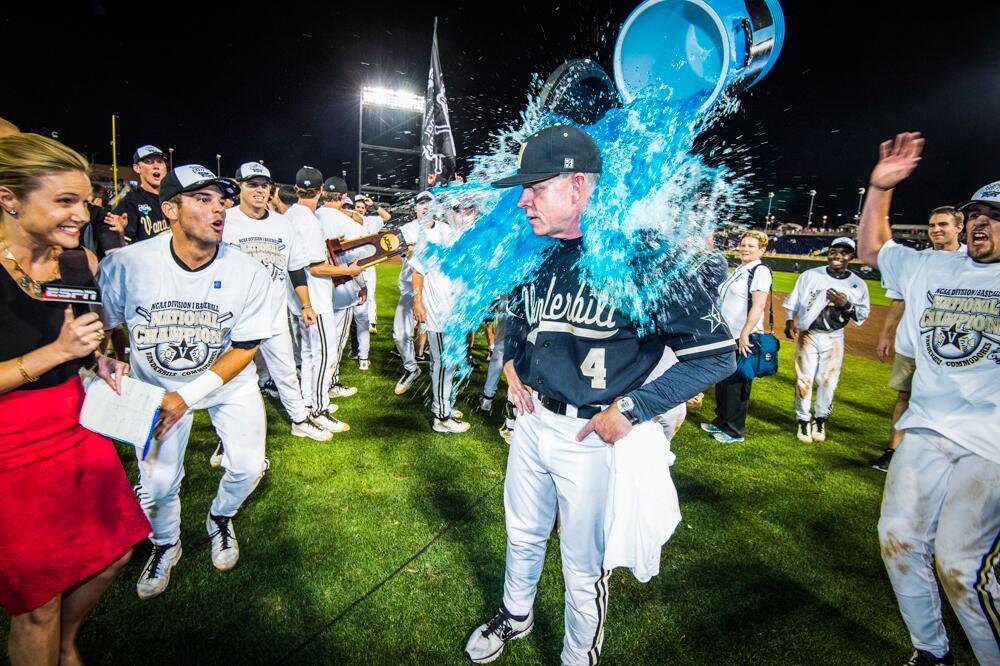 After struggling through the first two games of the College World Series, Vanderbilt came out looking like a team that belonged in the final pairing in a much tighter game three. The Commodores drew inspiration from energetic and emotional starting pitcher Carson Fulmer, who really limited the Virginia bats for the first time this series. Timely hitting finally arrived for Vandy as well: Although they only plated one run in an extended first inning, the only inning for UVA starting pitcher Josh Sborz, VU claimed the only home run of the series, John Norwood's solo blast that proved to be the game winner, in the eighth. After that, Vanderbilt reliever Adam Ravenelle dealt two innings of solid relief to close the door on Virginia and secure the 3-2 victory. (Fans of the MLB team that drafted Ravenelle, the Detroit Tigers, are already asking whether he's available to help stem the club's bullpen woes this season.)
For Vanderbilt, a charter member (1932) of the Southeastern Conference and a university with an interscholastic athletic history dating to the 1800s, last night's win was especially remarkable, because it was the school's first-ever national championship for a men's team, and just its second national championship overall. (The women's bowling team claimed the school's first national championship in 2007.) This win certainly feels like the culmination of the steady development of the VU baseball program by coach Tim Corbin, and with a very young roster, it shouldn't be surprising if his Commodores are back in Omaha next year to defend their title.
______________________________________
Postscript: Like any overdue collegiate athletic victory, last night featured a post-game marriage proposal. After his team won it all, Vanderbilt pitcher Brian Miller came away with a win of his own as well. Long live college sports.