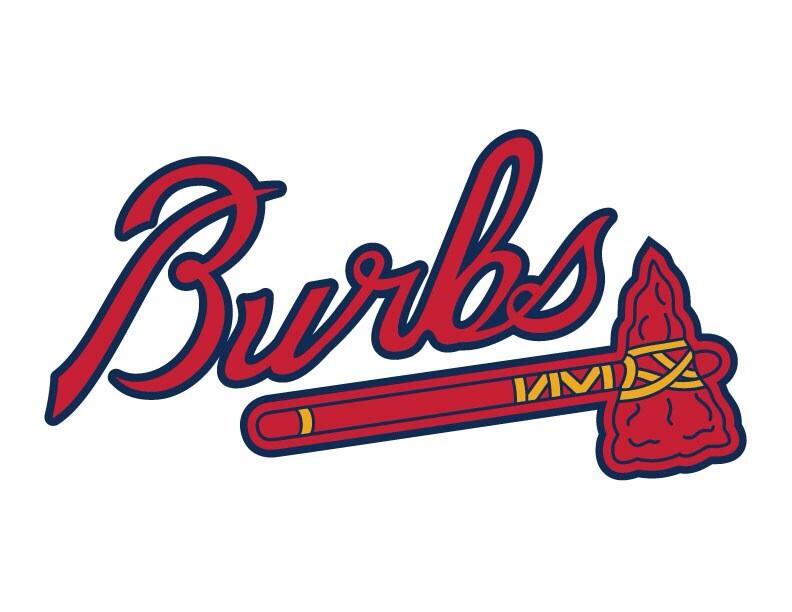 News broke Monday morning that the Atlanta Braves were planning to leave their downtown location at Turner Field and relocate to a new, as-yet-unbuilt stadium in Cobb County, north of Atlanta, near Marietta, Georgia. This is a bad idea.
First, to clear out my personal interest, I do not like this move because it means I will attend fewer games. I live and work in town. It is very easy for me to attend games, because I can take public transportation (MARTA) from my office or home and be at the park in roughly thirty minutes. As a result, I was able to attend about eight games this season (as mostly documented here), something that would not be feasible following the proposed move. For a few of the games, I had planned to attend long in advance and coordinated large blocks of tickets with friends. For probably most of them, though, plans came together at the last minute, and I was able to shoot off from work and make it there in time for the first inning. I was shocked, then happy, when I first realized how easy it was going to be for me to attend major league baseball games in my new city. It would be a great personal disappointment if I no longer had that accessible opportunity to attend games.
Even bracketing my subjective, selfish perspective, the proposed move is an objectively bad idea. The topic involves a moderately complex mix of politics, demographics, public policy, and other aspects, but I've tried to break the discussion into organized subtopics:
I. Attendance
There's no dancing around it: attendance at Braves games is not great. This is fine for me, because it means I can get tickets for a fraction of the box office price on the secondary market whenever and wherever I want, but that's about the only plus. Game attendance was one of the first issues the team raised when announcing the proposed move, and a map showing the residential locations of Braves ticket buyers quickly circulated online:
In case you aren't used to looking at maps of the greater Atlanta area, that blue dot in the middle represents the location of Turner Field in southern downtown, and the dark red areas represent dense populations of Braves ticket-buyers mostly concentrated north of town.
While the Braves organization and defenders of the move want this map to stand for itself as clear testimony in support of the new stadium, the image's implicit, putative logic is faulty for two reasons:
a) The map data, in isolation, is not as helpful as it could be because it is not checked against a general population density map. Some people might choose where to live primarily based on proximity to a baseball park, but that's at best a secondary consideration for most.
b) More importantly, if residents of the northern suburbs, including Cobb County, are heavy purchasers of Braves tickets, what does the team gain in attendance by moving closer to them? They're already coming to the current location. It's one thing to reward local customers by making it easier for them to access your product, but if the purpose of the move is to increase attendance, planting the stadium in the heart of your existing fan base's neighborhood may not make sense.
All of this is to say nothing about out-of-town attendance, something I'll address as part of the next subtopic.
From a facilities standpoint, the team's primary argument is that Turner Field, which, like the Georgia Dome, is not very old and really is more than just fine, requires repairs and upgrades costing so much (hundreds of millions of dollars) that it makes more financial sense to start fresh with a new stadium.
II. Transportation
Transportation is one of the central issues of this story, and it has two main components: public transportation and private vehicle traffic.
a) Unlike Turner Field, the proposed site of the new stadium is inaccessible by MARTA, Atlanta's public rail and bus transit system. Cobb County as a whole has been hostile to public transportation for decades, a view that persists there today. If Cobb County voters continue to have their way (more on democratic input below), anything approaching reasonable public transportation access to the new park seems unrealistic.
b) Traffic in the north Atlanta suburbs already is famously awful, and, from the perspective of game-attending fans and non-game-attending commuters, the notion of inserting a baseball stadium there with cars being the sole means of access is remarkably foolish. Some think the traffic problems associated with the proposed stadium site would negate any other advantages of the proposed move. I get road rage just imagining it. Increasing traffic congestion in this area could do two things contrary to the team's stated goals: i) make it more difficult for people to get to the game, thereby decreasing attendance, and ii) breed resentment of the team in the very region where most of the team's ticket-buyers live.
One additional constituency the proposed relocation would adversely affect is the Braves' out-of-town fans, a group of not insignificant size by any measure. Fans arriving in town to attend a game will need somewhere to stay for the night, likely placing them in downtown or midtown. Attending the game then will require renting a car, taking a very expensive taxi ride (and hope they can find a return taxi in the suburbs), or driving their own car, each of which will then subject them to all of the traffic problems local fans face.
From an urban planning standpoint, the abandonment of Turner Field seems to undermine the city's recent efforts to build the BeltLine train, which is designed to deepen the connections between existing MARTA routes and Turner Field and other south downtown locations.
For their part, Cobb County transportation officials have made vague assertions that they have unspecified plans to deal with the traffic problems the proposed stadium would bring.
Parking, of course, is another question.
III. Democracy
I am only just beginning to learn my way around local politics, but even I noticed that this surprise announcement came less than a week after the local elections held on November 5, avoiding any sort of blunt referendum on the proposal. (The Falcons' relocation and destruction of the Georgia Dome clearly is related to this story.) The final decision on the stadium proposal apparently rests with the Cobb County Commission, which is set to vote on the financing package on November 26, meaning that Cobb County residents will not have a direct vote on the move.
Even expressions of general public opinion are curbed, thanks to a bizarre IT decision by the Atlanta Journal-Constitution that permits only one person in an office to vote in its online poll about the move:
The team and the county recently released a document purporting to summarize the funding plan for the new park. One of the recent headlines is that there would be no increase in property tax assessment to fund the public's share (forty-five percent of $672 million, or $300 million) of the new stadium's cost. That looks to be true, strictly speaking, but the funding plan relies on three new taxes or fees of other varieties, as well as a reallocation of existing expenses, which necessarily will mean a decrease in whatever services the unchanged property tax revenues were funding. Here's an overview of the financing arrangement:
(For a variety of reasons, I excluded the "Economic Impact" portion of the document's infographic, including because I think those claims generally tend to be highly speculative and because some of the supposed "gains" have counterbalancing losses that aren't addressed.)
While that document does mention parking revenues in general terms, it does not explain likely increases in fan costs, such as more expensive parking, tickets, concessions, and merchandise, as well as other ticket add-ons like personal seat licenses.
IV. Perspective
Some government and team officials and other supporters of the proposed stadium have tried to calm opponents of the proposal by observing that the new site is just thirteen miles from Turner Field. It doesn't sound like it's that far away. As the above, which just scratches the surface of some of the topics at play, should indicate, however, that thirteen-mile move is fraught with a wide range of sometimes deeply rooted and contentious elements.
By contextual comparison, though, the move is a big one. In fact, it's the farthest an MLB team has ever moved (within the same metropolitan area) away from the city's center, and, setting aside the 1973 move in Kansas City, which was to a temporary location, it isn't even close:
This stadium proposal– which is looking less like a proposal and more like a certainty every day— is a big deal for Atlanta, and it will affect all Atlantans in a variety of ways, some of which are mentioned above, and some of which are not.
Thanks to Laura for helpful conversations that aided the development of this post.