The Boston Red Sox had the nerve to win the World Series against the Los Angeles Dodgers last night before I was ready to be done watching baseball for the year. I didn't necessarily want to keep watching these two teams play each other, since Boston seemed to hold a fairly convincing edge over L.A., but that pairing was the only option here at the end.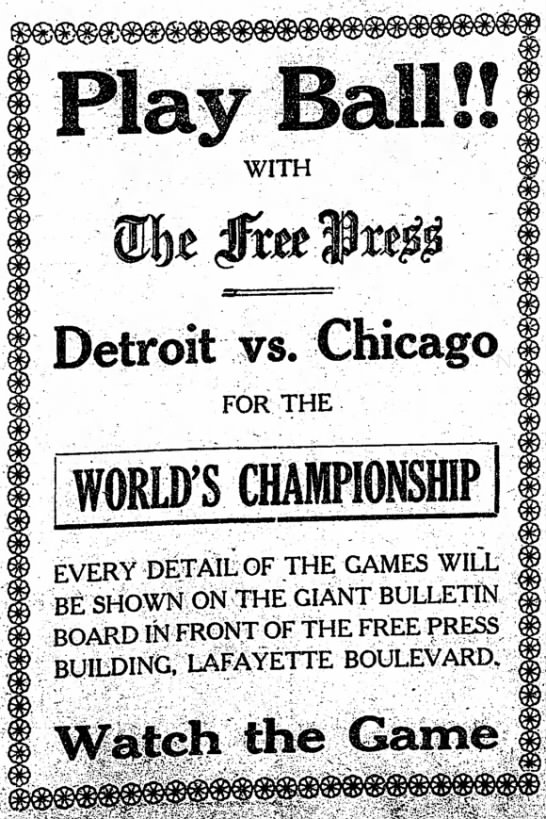 The primary purpose of this post is to record in this digital log book the above image of an advertisement for a watch party for game one of the 1907 World Series (excuse me, World's Championship) between the Detroit Tigers and Chicago Cubs. I like the idea that, long before teams were inviting fans into their otherwise-empty arenas to watch road championship games together, fans were gathering to watch an intern tack scribbled game updates on a "giant bulletin board" outside the newspaper office. There being no television at that time, and radio broadcasts of games still being more than a decade away, this proto-ESPN Gamecast offering was your best option if you didn't want to wait until the next day to find out what happened. Thankfully, October 8, 1907, was a fairly warm and dry day in Detroit (high 68, low 41, no recorded precipitation), but one imagines this was no guarantee.
Speaking of a lack of guarantees, there was no guarantee that Steve Pearce even was going to play in the World Series, much less be named its most valuable player. He started the season as a member of the Toronto Blue Jays, joining the Red Sox by way of a June 28 trade. He wasn't a regular starter for Boston, and the thirty-five-year-old likely would not even have had the opportunity for significant postseason playing time but for an injury to Mitch Moreland.
My in-progress model generally supports the decision to name Pearce the MVP. In the postseason, only Yasiel Puig did more to contribute to his team's championship chances than Pearce, and those two clearly separated themselves from the rest of the pack. (A nod here to Josh Hader, whose amazing performance as the tip of Milwaukee manager Craig Counsel's aggressive bullpen spear kept him at or near the top of the cWPA leaderboard even after the Dodgers eliminated the Brewers in the NLCS.)
And here begins the MLB offseason. This week, watch for Clayton Kershaw's Wednesday deadline to decide whether to opt out of the last two years of his contract (in which the Dodgers would owe him roughly $35 million per year), as well as Saturday's deadline for teams to make qualifying offers to free agents, a crop of players that includes Pearce, as well as Manny Machado, Bryce Harper, Josh Donaldson, Dallas Keuchel, Andrew Miller, Andrew McCutchen, Craig Kimbrel, Yasmani Grandal, Nathan Eovaldi, Cody Allen, Jose Iglesias, Adam Jones, Adrian Beltre, and many others.