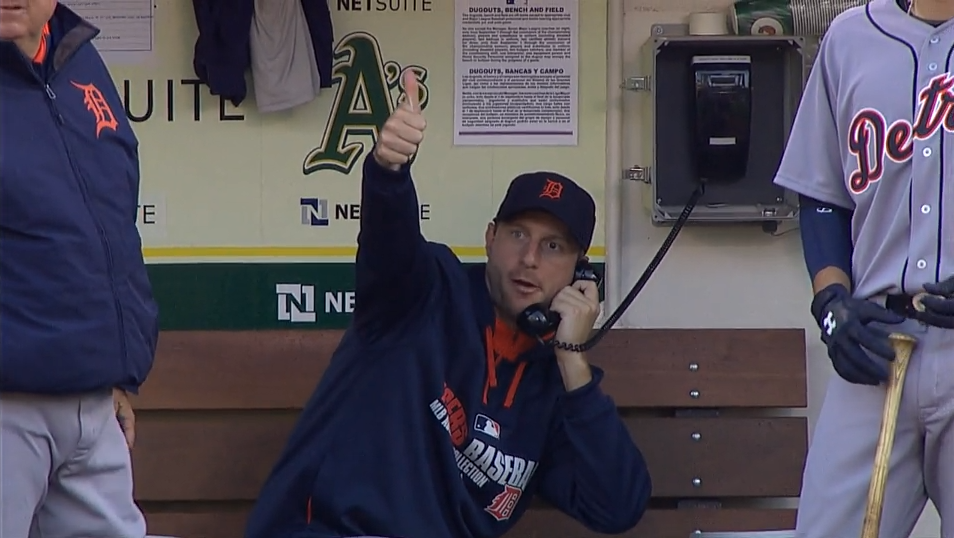 Overnight, the long-anticipated news of this baseball offseason finally broke: The Washington Nationals won the Max Scherzer sweepstakes by signing the former Detroit Tiger to a seven-year, $210 million contract.
Scherzer made news last March when, heading into his final season before becoming a free agent, he turned down the Tigers' six-year, $144 million offer to stay with the team. That failed (from the team's perspective) dance fouled up a variety of personnel matters for Detroit. They had already traded Prince Fielder and much, but not all, of his contract to Texas and starter Doug Fister to Washington for figuratively literally nothing all probably in an attempt to clear the books for Scherzer's new contract. When Scherzer balked at the offer, the team responded by giving Miguel Cabrera all the money. Last season got off to a rough start, and, at least from a business perspective, Scherzer was at the center of it.
Max probably was my favorite amongst a very likable group of guys playing for the Tigers over this last stretch of seasons. His relief appearance against Oakland in the 2013 playoffs always will be among my most favorite half-innings of baseball.  
I certainly am not upset at Max for taking the Washington deal. I wish the Tigers would have been able to bring him back, but I knew it wouldn't be prudent to commit the amount of money he's due to another long-term contract for another player on the old side of thirty, and I didn't expect them to do so.
As Schezer joins Fister in Washington, it's clear that the Nationals have assembled one of the finest starting rotations seen since Fister and Scherzer were together in Detroit.
One feature of Scherzer's new contract astute observers were quick to notice is that Max's seven-year, $210 million deal won't actually pay him $30 million per year. That's due to a "historic" deferred-compensation structure that will pay out in equal amounts over fourteen total years. In other words, rather than receive, for example, $30 million every year for seven years, he'll receive $15 million every year for fourteen years, and that's true even though he isn't contractually obligated to play baseball in Washington after the seven-year service term of the agreement. What that means is that, in terms of today's dollars, Scherzer actually is receiving almost the same deal the Tigers offered him a year ago (albeit with an extra season tacked on, which is no small thing for a hard-throwing ace who will turn thirty-one this summer). From Dave Cameron's FanGraphs post:
The first two columns are maybe the most important. Here, you can see that if the Nationals had simply signed Scherzer to a normal backloaded deal, the kind of contract we see all the time in MLB, the contract would have been worth almost $27 million more to Scherzer than the one he signed. If he had gotten a flat payout structure, we're talking about $30 million in additional value. Generally, deferred money doesn't make a huge difference, but when you're deferring half of the second largest contract for a pitcher in baseball history, the timing of the payments can make a big difference.

And that's where that last column of that table comes into play, as it shows what an equivalent flat payout AAV would be to this deal: $170 million. If Scherzer had signed for 7/$170 with an equal payout in each season that he actually played for the Nationals, that contract would be roughly equivalent in value to the $210 million deferred compensation contract he actually signed.
Without knowing how the Tigers would've structured the deal they offered, we can't know for certain how it would've compared to the one Scherzer just accepted, but Detroit fans surely will note that $144,000,000 / 6 = $24,000,000, which really is pretty close to $24,341,000 when we're talking baseball dollars.
This should be taken as a small bit of good news for Tigers fans, because it's (circumstantial) evidence that Dave Dombrowski offered Max a fair deal last year. That fair deal probably also represented a reasonable ceiling on what the Tigers could afford to pay Scherzer. That Scherzer found a team in a better position to offer him an extra year and a bit more money is not an indictment of Scherzer or the Tigers.
UPDATE: Additional analysis trickling in, as expected.
First, from Marcus, our business-minded contributor, who adds that the Tigers' offer isn't quite as close, on an annual basis, to the Nationals' contract as the above might suggest, rightly pointing out that the $24 million per year that $144 million over six years yields also would have to be discounted to present value.
Second, Yahoo! Sports!' Jeff! Passan! examined some of the tax implications of Scherzer's new contract. Because Scherzer will be earning his income in the District of Columbia while residing outside the district, he will not be subject to state income taxes, a fact of not insignificant consequence: "All told, the lack of state income tax in D.C., when compared to playing in tax-heavy states, could save Scherzer eight figures. One source said the tax advantages could end up at more than $20 million, offsetting much of the money lost via deferrals."
Third, the Effectively Wild guys discussed the signing largely from the Nationals' perspective, and both agreed that it looked like the first step of a two-step move that would see Washington trade a starting pitcher, likely Stephen Strasburg, for what is likely to be a substantial prospect haul.