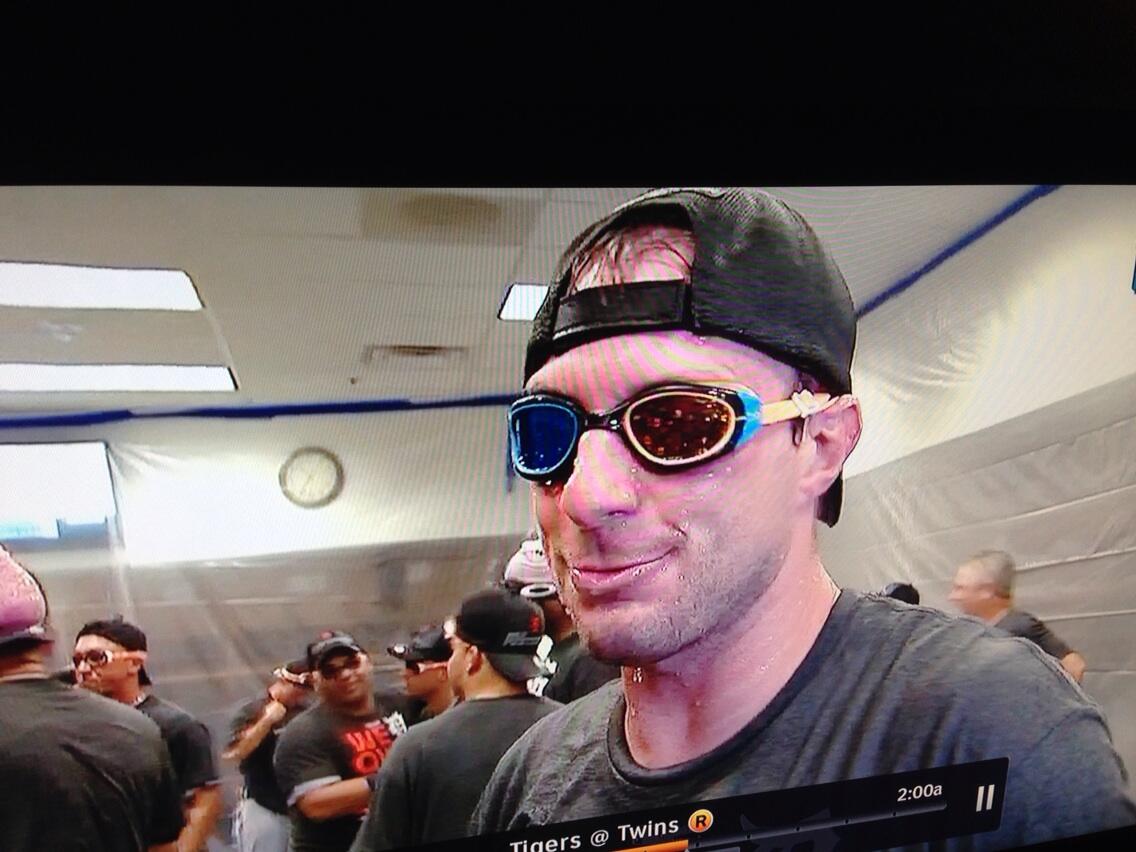 The regular season is (basically) over. October begins tomorrow. The Tigers are in the playoffs. All of this is good news, and the AL Central-clinching game– Jim Leyland's emotional 700th win with the Tigers– was worth celebrating.
These Tigers are built to contend for and win a World Series championship, so, for Detroit, the real action begins in Oakland on Friday.
Unlike the A's, the Tigers are entering the playoffs cold and disjointed. First and foremost, Miguel Cabrera's abdomen/groin injury/ies appear anything but resolved. There's no question that he'll be in the lineup for every game this month, but I have plenty of questions about how productive he can be. Without his consistent hitting power, together with a serviceable level of capability on the basepaths and on defense, it's difficult to see how Detroit can defend its American League championship and make a return to the World Series. Little is publicly known about Cabrera's current health aside from what can be gleaned from watching him play, but I'm worried about the signals the visuals and the team's silence are sending.
Second, the bullpen continues to be a serious weakness for Detroit. This has been an issue since day one of this season, and while it seems like there's been some progress on that front, I don't feel a lot more confident in the middle relief after 162 games than I did in March. There's help here, though. Because the playoff schedule is such that a team only needs, at most, four starting pitchers, the Tigers can move Rick Porcello into the bullpen. Kid Rick is pitching very well right now, and he should be able to fill most of the middle relief gaps.
Third is the issue of late-game run support. I first raised this issue early in the season, and when I checked in after 100 games, the numbers looked even worse. I'll do one more check of these numbers, but  my sense is that this is an area where the Tigers have improved a little bit. If this remains a problem, the pressures of the playoffs may exacerbate it, however.
Fourth, as more of a note, Justin Verlander probably should be the team's fourth starter in the playoffs. The question I have about him is not about the number of "smart," "rational" Tigers fans you can whip into a rage by talking about Verlander's struggles, but about whether Leyland really will use Verlander as the third or fourth starter in the playoffs. I believe he will. Max Scherzer and, increasingly, Anibal Sanchez have separated themselves as Detroit's clear top two starters, and if the Tigers are to succeed this month, it will be on the strength of their arms.
Fifth, Jhonny Peralta's back with the team, and not a moment too soon. It looks like Peralta will be taking over a weak left field for the Tigers in the playoffs. Detroit needed his bat in the lineup, and there isn't anywhere else to put him. He rejoined the team for their last regular season series, and he had a double and an RBI in his first game back. He had two hits in the second game of the series, and none in three at bats in the third game. Being a shortstop, his fielding abilities in left, backing up Cabrera's limited range at third, raises some concerns, particularly with starting shortstop Jose Iglesias' recent case of bilateral shin splints, but, as stated, there aren't any viable alternatives here.
As a final note, I think it's the case that you know your own team, and therefore your own team's weaknesses, better than you know anything about your team's opponent. These Tigers are very good, and have been historically good at times this season. Starting Friday, we'll find out whether they will be at their best when there's no other option.
_____________________________________________
Related
Full postseason schedule
Tigers-Athletics preview
Previously
Heeeeeere's Jhonny? – 9/12
Crime & Punishment – 8/7
Trader Jose(s) – 7/31
100 days of summer run distribution – 7/25
Are the Tigers the unluckiest team in baseball? – 6/28
Forget what you know – 6/25
History and Revision – 6/12
Tigers beat Braves 7-4 as part of series sweep of visiting Atlanta – 5/7
April in the D – 4/26
Jet Set (Sigh?) – 4/23
Run distribution, science, and the likelihood of a Detroit comeback – 4/15
WSJ throws a wet newspaper on the Tigers' 2013 chances – 4/3
A Tiger is a Tiger is a Tiger – 3/29
The Departed – 3/14